Improve the Quality of your Air
Did you know that dry air is one of the leading causes of dry skin, sinus congestion, chronic cough, and even nosebleeds? Whatever the issue is, you don't need to spend thousands to fix the problem.
Breathe Fresh Air While Working, Sleeping Or Even Cleaning – #1 BEST Selling 6-in-1 Humidifier of 2020!
SLEEK. STYLISH. SILENT.
Meet Clear Aromifier,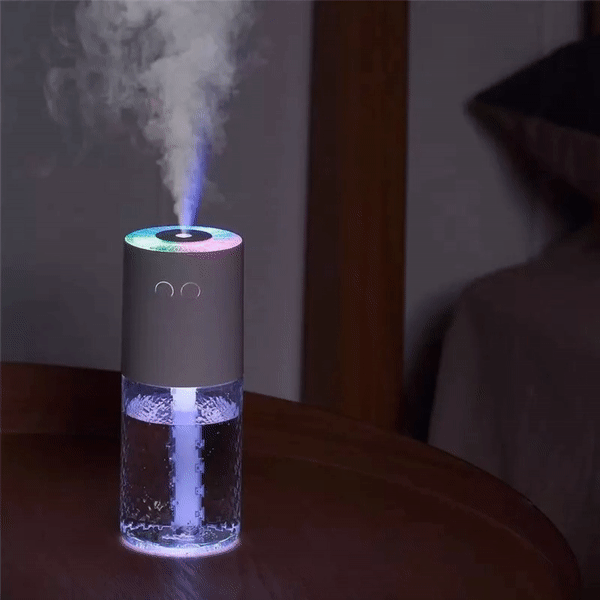 One of the first members of our collection, Clear Aromifier is a modern humidifier with a few extra perks. Easy access to cleaning & maintenance.
Clear Aromifier comes in 4 colors, all of which we chose to complement your everyday living space. Whether it's an office, bedroom, or living room, this humidifier is a stylish and classic addition to almost any environment.
Here's The Cool Part – The Clear Aromifier also functions as a negative ion air purifier, so in addition to being a reliable humidifier, you get the ultimate 6-in-1 household companion.
BENEFITS:
  Acne Remover/Facial Skin Cleanser 
  Multifunction Humidifier
  Cool Mist Humidifier
  7 Colors Night Light
  LED Party Light Projector
ALL IN ONE!
7 color LED / 2 modes — Equipped with a colorful LED light, you can choose any color you like and can also illuminate it at night. Gentle light will heal your tired body naturally. Two operation modes are available which can be used for 5 hours in continuous spray mode and for 10 hours in interval spray mode (every 3 seconds of spraying stops for 3 seconds).
The long-lasting mist helps moisturize the dry air in your room, improve your sleep quality, clears pores and stimulates circulation, detoxifies and moisturizes your skin to alleviate any discomfort.
Silent humidification / zero radiation — Operating noise is 35dB or less, very quiet, no disturbing sleep. Polymer atomization, zero radiation, deeply healed with mind and body.
Intermittent Spray Mode – 10H (Continuous Spray Mode) TIMER and automatic shut-off safety feature that turns off the humidifier after 5 hours/10 hours or when it runs out of water preventing damage to the unit and keep you safe.
Noise Level: Ultrasonic
Type of Mist: Cool Nano-Mist
Capacity: 200 mL (5 hours continuous, 10 hours intermittent mode)
Maintenance Type: Basic Water Tank Cleaning, Cotton Filter
Notable Features: LED Night Light Feature, Negative Ion Air Purifier Kills Bacteria/Germs
Portable: Compact Size – Travel Friendly
Multi-purpose use for home, office and car
Additional Specifications: 
Noise: <32db
Power (W): 3W
Voltage (V): 5V
Water-shortage Power-off Protection: Yes
Power Type: USB
Application: <11㎡
Humidity Control: Touch-tone
Humidifying Capacity: 30ml/h
Size: 7×6.6×22.3cm
Stylish Appearance, Novel Style
Colorful Colorful Night Light, Which Can Shine Brightly At Night
Ultra-Quiet Design, Anti-Dry Function
Ultrasonic Atomization, The Spray Is More Delicate and Moisturized