Our specially designed seat can reduce

car sickness

in dogs, give them somewhere

safe to hide

, feel more secure and

reduce anxiety

during car trips

🐶
#1 RATED PET CAR SEAT
🐾 Clever design that keeps your pet close in the car
🐾 Removable and washable soft padding
🐾 Comes with a leash for extra security
Super-soft padding inside the seat will feel like a soft cloud, where the dreams are made out of endless belly rubs and treats.

Our customers especially love that there's a leash attached to the seat, which makes sure your pet is safe at all times! The seat itself is secured to your center console with adjustable straps, which means it fits most cars.

Dimensions of our seat are 17.5" x 7.5" x 9.8" (length, width, height).

Unlike other pet car seats, we've designed ours so that it fits between the two front seats - right onto the center console/armrest. This ensures your four-legged friend is always close to you. We're a small family owned business, and we've had pets our entire life. They're our joy and happiness!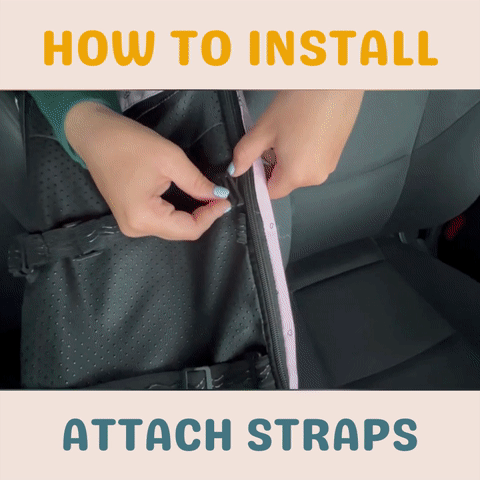 DID YOU KNOW?
Around 40% of pets worldwide suffer from anxiety at some stage. Normally pets are on the backseat while travelling, but unfortunately this can lead to all kinds of mental health problems for pets 😥.
A lot of people keep their pets close by having them sit on the passenger seat, but this can be extremely dangerous due to the airbags. Our seat is a perfect solution to all of these problems!
They need to be able to be close to you, especially in a car, as it's a totally different environment compared to a safe, familiar home. Next time when travelling, have them safely carpool right next to you and let them feel more secure than ever before.
OTHER PET OWNERS HAVE ASKED 🙋
Is the seat safe to use?
Yes it's safe to use! The seat is attached to the car with straps, and inside the seat (under the soft padding) is a leash that attaches to the pet. We recommend attaching it to the harness.

We suggest familiarizing your pup with the seat by slowly introducing it to them outside of the car - we find that covering the seat with a cozy blanket or toy that your pup is comfortable with can help them feel more confident!
How long does delivery take?
If you are in the US, delivery is averaging about
5-15 business days
depending on your location! All orders are tracked and shipping is free!

For more information, please check our
Shipping Policy
Will my pet fit?
Maximum recommended weight is
11-12 lbs
and length
11-12 inches
.
Make sure to weigh and measure your pet before placing your order.
Will the seat fit my car/center console?
The dimensions of our seat are 17.5" x 7.5" x 9.8" (length, width, height).


Our seat comes with adjustable straps, so it fits most cars.
If you are unsure, you can measure the width and height of your car center console/armrest door. If the width of your center console door is less than 14", our seat will fit.
Do you have a bigger seat available?
We currently don't have a bigger seat available, but we are working on making it happen in the near future. We'll definitely announce it on our website and social media, so make sure you follow us on Facebook and on Instagram!
How is the seat secured to the car?
The seat is secured to the car with adjustable straps. You can adjust the straps to loosen it or to make it tighter.
Is your pet seat available in stores?
We're currently only selling via our online store, but we're working on getting the seat out there to some of the major retail chains.
Does it come with a warranty?
Absolutely! Read more about refunds and returns in our Refund Policy.