Everything you need to create a beautiful art!
Embroidered fabric is with pattern, follow the pattern and punch. Patterns can be removed with hot air from a hair dryer, you can DIY the pattern you like.
No need to worry about the wrong steps because you can re-thread at anytime. And Punch needle kits are reusable.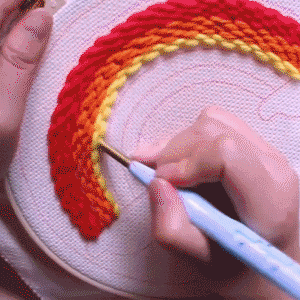 FEATURES:
WIDELY APPLICATIONS: An craft that can be applied to clothing, pillows,rugs,wall hanging,ornaments and other décor and more as your imagination can reach. Punch needle is a craft technique suitable for all ages. It's one of the fastest types of needlework, and so satisfying.It's easy to do sitting on the couch and enjoy the fun with the family.
COMFORTABLE EMBROIDERY PEN PUNCH NEEDLE: Looen punch needle is made of brass.The handle is made of wood,it is smooth and comfortable. The color of natural wood is very beautiful.The ergonomic handle is very comfortable.
CREATIVE AND FUN: Creating colorful works of art is entertaining and fun. This is the perfect activity for travel and you can take it with you anywhere.
MAKES A GREAT GIFT: Kids and Adults will enjoy creating their very own textured miniature tapestry. Its the perfect present for birthday, holidays, mother's day and more! Mother's day is coming, show your love for her.
REFERENCE STEPS:
Insert threader into needle shaft until the folded end of the wire appears at the other end. Place thread inside the wire loop.
Put threader back through the needle shaft emerges from the needle tip.Remove thread from the threader.
Insert threader through the eye from back (rounded) side to front (beveled) side.Place thread inside the wire loop.
Pull the needle eye.Remove thread from the threader,leaving enough thread.
SPECIFICATIONS:
Material: Cotton
Weight: 320g
PACKAGE INCLUDED:
Note: The wooden frame is not included in the kit, if you need it for decoration, please order the style Wooden Frame(For decoration).