"A MESMERIZING EXPERIENCE"
This LED-lighted desktop aquarium with two synthetic jellyfish provides mesmerizing ambiance just like their real counterparts.
THE HYPNOTIC JELLYFISH AQUARIUM brings the Ocean to Life into your room! Breathing LED lighting changes from blue, green, purple and red! It enchants any room in the house! Perfect for a child's room, or even for a romantic night light!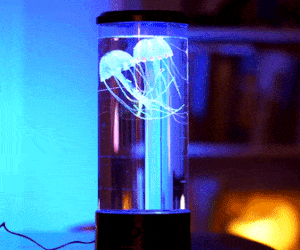 FEATURES AND BENEFITS
IMMERSE YOURSELF IN THE PEACE & CALM OF THE OCEAN: Watch the jellyfish swim quietly, creating a beautiful ambiance. Lifelike jellyfish movements are so realistic you will question if they are real. The overall effect of changing lights is simply mesmerizing and fascinating.

GREAT SENSORY STIMULATION PRODUCT: The quiet movement of realistic Jellyfish in the tank with fascinating color changing lights creates a beautifully tranquil, peaceful & soothing deep-sea ambiance which can help reduce stress & anxiety. Great for children, adults & seniors with special needs, including dementia, ADHD & autism. I may help improves mood & well-being.

FASCINATING COLOR CHANGING EFFECT: Fascinating Color-changing effects. With a quiet motor. The Lamp comes with 2 pcs lifelike synthetic Jellyfish. Please do not add any external items in it as well as they can cause the unit to malfunction.

IDEAL FOR HOME, OFFICE OR ANY INSTITUTION FOR PEOPLE WITH SPECIAL NEEDS: The Animated Jellyfish Lamp brings simulated marine life and colorful LED lighting to any room you place it in.

GREAT GIFT IDEA: Makes an excellent gift for anyone who is sealife enthusiast or simply wants to make a unique design statement. Great for Christmas, Holiday's, Parties, Home Offices, Bedroom or Living Rooms.

HOW DOES IT WORK?
Quite simply, we use LED lights, water and a motor that allows the silicone jellyfish to look almost life-like with their movements. The lamp's outer shell is Acrylic so it will not shatter if dropped. The LED colors can be set to one color or put in a multi-color changing mode.
The lamp is not completely sealed, there is a small hole with a cap on top that allows you to fill or drain water at any time. You may use distilled (best clarity) or Tap water! This really is a steal at this price.
HOW TO USE
Step 1: Open your Jellyfish Lamp box, the contents will include - 1 Jellyfish Lamp, 1 plug, 2 Jellyfish and 1 charging cable.
Step 2: Take off the Plug and fill the Lamp with water, add the (Artificial) simulated jellyfish as well. Once water is added and the Jellyfish are in, add a few drops of dish soap (this changes the viscosity making the Jellyfish move around.)
Step 3: Put the plugin and enjoy your Jellyfish Lamp! If the Jellyfish are floating, just simply push them back down until all the air bubbles are gone!
SPECIFICATIONS
Material: Acrylic
Power supply: 3 AA batteries (not included)
Size: approx. Small 9 x 3 inch (22

x 7.5 cm

)
Medium 11.02 x 4.09 inch (28 x 10.4 cm)
Large 16 x 5.7 inch (35 x 14cm)
FREQUENTLY ASKED QUESTIONS
Q. How big is the jellyfish tank?
A. Small 9 x 3 inch (22 x 7.5 cm)
Medium 11.02 x 4.09 inch (28 x 10.4 cm)
Large 16 x 5.7 inch (35 x 14cm)
Q. Can THE HYPNOTIC JELLYFISH AQUARIUM, project different colors?
A. Yes, you are able to use 18 LED colors with a press of a button from the remote.
Q. Does this have Auto Shut Off, I would like to fall asleep with it on and don't want it on all night long?
A. Yes, the auto shut off feature is up to 4 hours.
Q: Is this like a lava lamp? I need one that can stay on all night.
A: Not really. Lava Lamps work by heating up wax which rises to the top of the bottle, cool, and then comes back down. In this lamp, there is a jet of water that propels the plastic jellyfish around the tank. Since it is illuminated by LEDs, you can leave the lamp on all day and not have to worry about the bulbs burning out or the lamp becoming hot.
Q. How do you change batteries?
A. The jellyfish tank takes 3AA batteries or plugs in the USB to any outlet or computer. To change batteries, flip unit upside and open compartment. It's very simple, much like a child's toy.