Enhances & Brings A Lively Atmosphere To Dull Yards!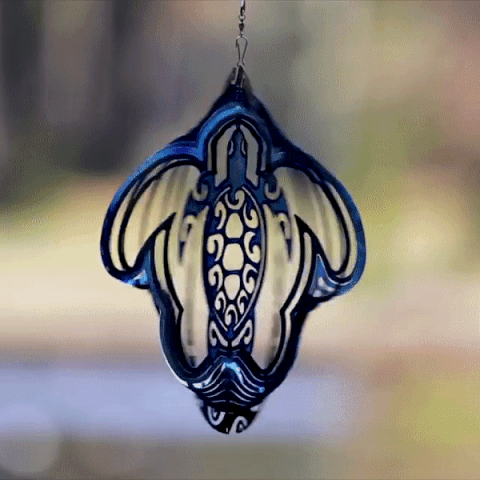 Plastic has been found in over 99 % of sea turtles causing thousands of them to suffer and painfully die. Help Save and Support Sea Turtles by hanging our uniquely Memorial Sea Turtle Wind Spinner.
Sea Turtle is a symbol of good fortune and longevity. This is the image of the sea, with gorgeous blue color. It can enhance any landscape, patio, lawn, or garden for an eye-catching and dramatic show. This garden wind spinner catches the breeze from any direction, lending color, movement, and sparkle to your yard. It is also an amazing yard decoration outdoor for your friend who is a garden lover.
Metallic paint and foil are applied to the various shaped spinning blades. Bright metallic and reflective painting creates a visual sensation in the garden. Shimmering colors capture the glint of the sun and make any garden stand out.

FEATURES:
Sea Turtle Wind Spinner is perfect for outdoor use
Great yard art decoration to your home or garden. Creates a mesmerizing spinning effect as it blows in the wind
Decorative laser cut design made of durable weather-resistant electroplated steel
Includes metal S-shaped hanging swivel hook for easy hanging.

Makes for beautiful yard art and garden gifts.
SPECIFICATIONS:
Measures:

12″W x 15″H.

Instructions included
Package Includes: 1 x Sea Turtle Wind Spinner