Get your own miracle grass in a roll!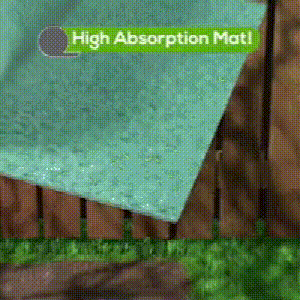 Biodegradable Grass Seed Mat is your new all-in-one growing solution that makes everything easier. All you need is to roll out the mat in your preferred surface, water it thoroughly, and watch it grow in about five weeks! What makes every roll of seed mat amazing is that it includes fertiliser. 
The mat is made of three layers of bio fabric, turf quality seed, and moisture-holding and nutrients bio fabric. It's perfect for all lawns, no matter what climate it is! It produces fast germination and uniform growth.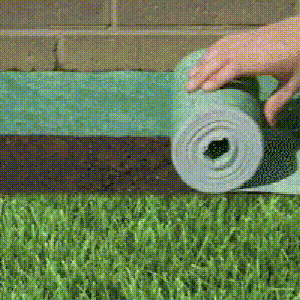 FEATURES
ALL IN ONE GROWING SOLUTION - All-in-One Grass Seed fabric Fertiliser, and Mulch in one easy to use 'roll out' growing system. "Every Seed Perfectly Placed" at 120% of its recommended planting rate. 
SIMPLY ROLL, WATER, AND WATCH IT GROW - Every roll includes fertiliser, and mulch to create an All-in-One grass growing solution. Our Repair roll growing system stays green, even in extreme conditions of dense shade or scorching sun.

BIODEGRADABLE GRASS SEED MAT - 

Once rolled out and watered, our specialised grass roll sticks to the ground. Each seed is then surrounded by fertiliser and held in place between two bio fabric layers, our Micro Pellet Fertiliser and Biodegradable Fabric. Micro Pellet Fertiliser produces fast germination and uniform growth. Biodegradable Fabric prevents seeds from washing away making it cheaper, easier, and lighter than traditional sod.
20 SQUARE FEET PATCH N REPAIR ROLL - Our product is super lightweight and easy to roll out and revive weak grass areas. Our Seed Roll aggressively spreads and thickens for a durable lawn.
PERFECT FOR SUN, SHADE, AND SLOPES - Designed for full sun and dense shade has fine-bladed texture and medium to high drought resistance.
HOW TO USE
SPECIFICATIONS
Product Size: 1 Roll 3M × 0.2M
Material: Bio fabric, Turf quality seed, Nutrients bio fabric.
PACKAGE INCLUDES
1 x Biodegradable Grass Seed Mat